By Tom Damon, Southwind President & Adventure Travel Specialist
On a recent visit to Santiago and the Chilean coast at the end of March, my wife Kelly and I flew 1 hour over the Andes to take in the emerging wine region of Mendoza. In this temperate zone tucked away on the eastern slope of the snow-capped mountains, peaks such as Aconcagua, the highest peak in the Americas, rise to 22,834 ft. Here couples and groups of friends will find the ideal place to relax with traditional Argentine cuisine and celebrated vineyards for 3-4 nights after exploring further afield destinations such as Patagonia, the Atacama Desert or the Andean Lake Region. If passing through Buenos Aires, Mendoza is an easy 2 hour direct flight west of the capital.
Our goal was to base from boutique hotels while exploring the Central Valley (Maipu & Luján de Cuyo) and the Uco Valley with a private guide and driver. I recommend starting in the Central Valley staying just outside the city in Maipu at the Club Tapiz Hotel surrounded by vineyards (or splurge for the nearby Entre Cielos Boutique Wine Hotel, home to Latin America's first authentic six-stage circuit hamam spa). Those looking for an all-inclusive resort package can upgrade to the Cavas Wine Lodge, a Relais & Chateaux property where your private villa includes a private rooftop sitting area and plunge pool tucked away in the vineyards.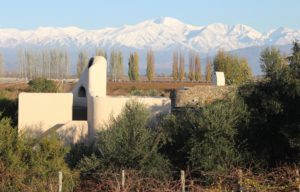 By day, your guide will introduce you to notable Central Valley vineyards. At night, dine at Tapiz on seasonal dishes with locally produced organic ingredients from renowned Paris trained chef Soledad Nardelli, paired with Tapiz's own wines and olive oil. See how many wine bouquet fragrances you can decipher in the Hall of Aromas at Belasco de Baquedano winery and try their late harvest Antracita Malbec Ice Wine. At the distinguished Achaval Ferrer, you'll find a complete winery renovation to enhance the visitor experience while expanding capacity with state-of-the-art technology. Taste their celebrated Malbec and Cabernet Sauvignon produced at different altitude vineyards using terroir methods as their cornerstone. Golf lovers will appreciate that Achaval Ferrer's Finca Mirador Malbec has been poured at the prestigious dinner for former Masters Champions in Augusta. To appease your mid-day appetite, Chef Lucas Bustos of Ruca Malen serves up a delightful 5-course pairing of food and wine as you admire lofty Cordon del Plata Peak shimmering above the surrounding vineyards, this vineyard was a favorite of Kelly's. A visit to the Central Valley is not complete without a stop at pioneering Catena Zapata, one of Argentina's most prestigious and important producers founded in 1902. Try a refreshing taste of their Chardonnay and high altitude, single-vineyard Malbec.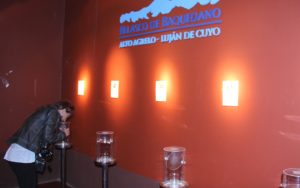 Next, set course south to the neighboring and higher Uco Valley where the Eastern slope of the Andes meet the plains of Argentina creating a gorgeous mountain background for the vineyards. Here, the investment from renowned wine families around the world is apparent in the boutique wineries sprouting up across the valley. Intrepid wine connoisseurs can buy into co-op ventures to make iconic wines among friends at The Vines Resort & Private Vineyards or at Alpasion Vineyards.
In the Uco, where vineyards can be found up to 4,500 ft in elevation, learn about site-specific trends from particular vines grown at different altitudes at projects like Clos de los Siete where renowned French producer Michel Rolland helped to put Uco on the map with a project of seven wineries run by impressive team of wine makers to reap the reward of the favorable soil and climate. One of the seven to visit is the innovative DiamAndes experimenting with gravity processing and fermentation in stainless steel tanks to produce high quality Malbec, Petit Verdot and Viogner.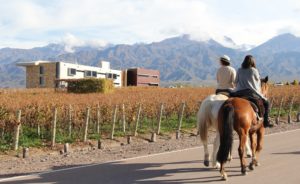 A personal favorite along the Uco Valley Wine Route is the small La Azul Bodega, a refreshingly unobtrusive oasis to relax and dine for lunch. Try a barrel tasting and sample their five-course menu accompanied by five La Azul wines. Taste ancestral Andean dishes with Mediterranean influences from the family's immigrant heritage. Specials of the house include escabeches of marinated fish with paprika or saffron, tasty empanadas, grilled meats (asado) and Argentine Braised Pork (bondiola braseada). The Finca La Azul Casa de Huéspedes on the property provides an intimate guest house experience after a day of touring the Uco. For a more luxe oriented overnight, try Casa de Uco Vineyards & Wine Resort with private villas immersed in the vineyards. The entire wall of the elegant lounge and dining area is comprised of glass windows overlooking the vines and majestic mountains. Another lavish choice is the Vines Resort & Spa featuring celebrity chef Francis Mallmann's Siete Fuegos Restaurant.
The Uco offers something for everyone, art aficionados will find 19th century paintings and contemporary Argentine art and sculptures at the Salentein's Killka Art and Cultural Center while more active visitors can bike, jog, hike or horseback ride through vineyards or on trails in the nearby Manzano Historico Natural Reserve. While in Uco, foodies can sample exquisite local cuisine, try tasting menus with wine pairing and participating in cooking classes.
As Mendoza's wine sub-regions increasingly make their way onto labels in the US (and not just for the fabled Malbec) keep an eye out for the 2018 vintage. While we toured during the lively April harvest, local winemakers were seeing unusually high aromatic and concentrated flavors as a result of lower than normal yields from spring frost and cooler drier weather.
So, when thinking about a Chile and Argentina get-a-way, I recommend speaking with a knowledgeable Southwind Travel Specialist (1.800.377.9463) or
(private trip request form)
to discuss ideas and then pack your bags for Mendoza.
Tom Damon, Aug 2017