Costa Rica Family Odyssey
A Tropical Green Adventure into Rainforests, Volcanoes and Beaches
---
---
Southwind Adventures brings you the essence of Costa Rica – a classic, family-friendly journey that includes all the 'musts'. Experience the pristine white sand beaches of Tamarindo. Get active on hiking trails, river floating, or paddling a sea kayak. Relax in a hot spring and in comfortable, environmentally friendly lodging.
On this journey, families will be caught in the moment while spotting exotic wildlife like howler and squirrel monkeys, tree frogs, sloths, turtles, butterflies and birds galore. Seek thrills on a zip line, tree canopy walk, and exploring Arenal – Costa Rica's most beloved volcano. Costa Rica is calling all adventurers – time to answer!
---
Trip Highlights:
Stand at the rim of a volcanic crater at Poas Volcano National Park
Get sprayed by the fine mists of a waterfall at La Paz Waterfall Gardens
Float on a raft down a rainforest river surrounded by jungle wildlife
Zip from treetop to treetop on a 7-cable long canopy tour
Hike around Costa Rica's most active volcano – Arenal
Visit big cats under threat at a puma rescue center
Traverse 6 suspension bridges at the Arenal Hanging Bridges Park
Snorkel among tropical fish, sea turtles and manta rays in secluded beach coves
Balance on a surf board and catch a wave as you learn the basics
Paddle a kayak along a saltwater mangrove estuary
Costa Rica Family Odyssey
Trip Itinerary
---
DAY 1: USA / SAN JOSE
Arrive to San José, where you'll be greeted at the airport and transferred to a lovely hotel just outside the city.
DAY 2: SAN JOSE / POAS PARK / LA FORTUNA
A scenic journey to La Fortuna includes stops at the Poas Volcano National Park and La Paz Waterfall Gardens.
DAY 3: ARENAL / LA FORTUNA
The Arenal adventures begin with a morning river float for wildlife viewing and an afternoon in the treetops on zip line. Enjoy the hot springs back at the hotel.
DAY 4: ARENAL / LA FORTUNA
A second exciting day in Arenal is spent at a hanging bridges park and sampling a day in the life of a ranching family, ending with a visit to an ecological reserve.
DAY 5: ARENAL / TAMARINDO
Morning nature hike on the slopes of Arenal Volcano (5,480 ft), then a drive to coastal Tamarindo with a stop at Las Pumas rescue center.
DAY 6: PACIFIC COAST / TAMARINDO
Soak up coastal life on a catamaran cruise with chances to snorkel, followed by surf lessons in the afternoon.
DAY 7: PACIFIC COAST / TAMARINDO
Kayak in a nearby estuary and through mangroves, then enjoy a horseback ride to a sunset view and a farewell BBQ.
DAY 8: TAMARINDO / LIBERIA / USA
Final leisure time at the beach before boarding a flight home from the Liberia airport.
Detailed day-by-day itinerary (PDF)
With full trip profile, difficulty rating, weather, and other planning details.
Costa Rica Family Odyssey
Dates & Rates
---
Departures
On request, for any dates during the November-April season.
This trip is
customizable
according to travel preferences and season.
Land Cost, 2017/2018
$4,395 p.p.d. (4-6 participants)
$4,095 p.p.d. (7-12 participants)
$1,125 Single Supplement
Special discounted pricing applies for kids ages 7-17
p.p.d. = per person based on double occupancy
Detailed day-by-day itinerary (PDF)
With full trip profile, inclusions/exclusions, estimated airfare, and other info.
Costa Rica Family Odyssey
Accommodations
---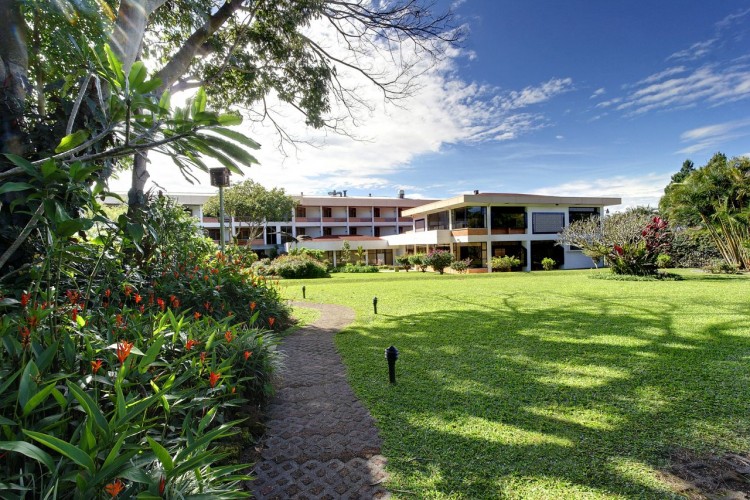 SAN JOSE: HOTEL BOUGAINVILLEA
— Located 10 minutes from downtown San José and 25 minutes from the airport, this suburban hotel set among stretches of tropical gardens gives you a feeling of the Costa Rican lifestyle and hospitality. Its gardens were recently recognized as Costa Rica's finest by a local gardening association.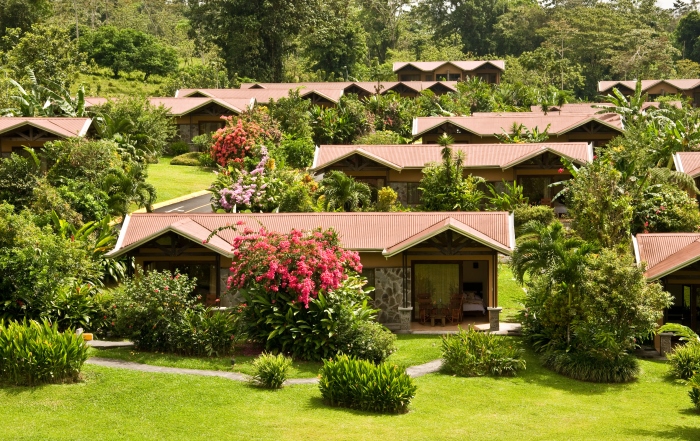 LA FORTUNA: ARENAL SPRINGS HOTEL
— Arenal Springs Hotel is located just 5 miles outside the town of La Fortuna on the way towards the Arenal Volcano National Park. On the grounds, you'll find a selection of restaurants supplied by a fresh vegetable gardent, a health spa, a swimming pool, and special hot springs.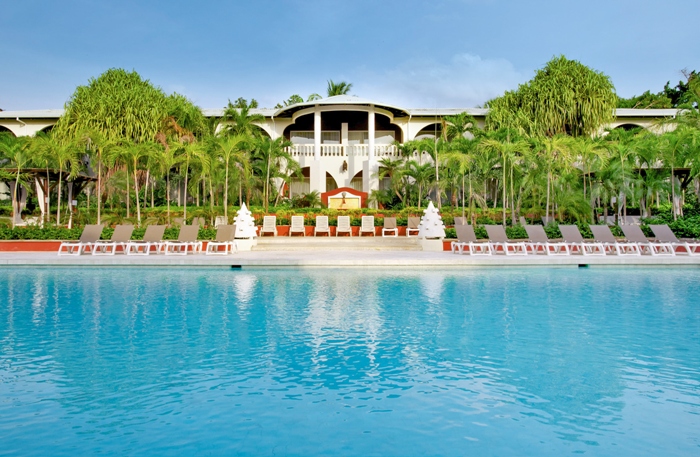 PACIFIC COAST: TAMARINDO DIRIA
— Tamarindo Diria is set right in front of Tamarindo Beach, a 2-mile stretch of white sand and warm blue water. Nature is abundant in this area where Leatherback Turtles lay their eggs in the northern part of the bay. This beachfront hotel is surrounded by five acres of mesmerizing tropical gardens, tall palm trees, and four swimming pools.
Costa Rica Family Odyssey
Extensions
---
MANUEL ANTONIO
Length:
3 Days/2 Nights from San José
Season:
November through April
Situated 120 miles from San José on the Pacific coast, Manuel Antonio National Park is recognized as one of the most biodiverse protected areas in the world. Lagoons, mangroves, lush rainforests and white sand beaches comprise an incredibly diverse ecosystem. Here you can witness the wildlife (109 species of mammals and 184 species of birds) via hikes, snorkeling, kayaking, and a sunset catamaran ride. Spend three days exploring this fascinating area using the Parador Resort & Spa as a base. This extension is best added at the beginning of Costa Rica Family Odyssey.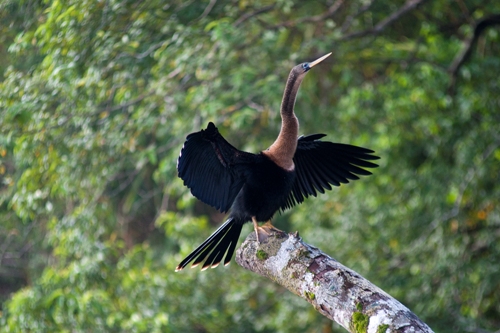 TORTUGUERO
Length:
4 Days/3 Nights from San José
Season:
November through April
Tortuguero National Park protects 46,815 acres of natural wildlife habitat, including over 20 miles of coastline. The park is also home to a variety of tropical animal species including jaguars, macaws, tapirs, reptiles and over 300 species of birds. A number of manatees call Tortuguero their home as well, though they are difficult to spot. The park offers great rainforest hiking trails, boat rides, canoeing, or kayaking. The Green Sea and Hawksbill turtle's nesting season runs from July to October with the peak in August, and the Leatherback turtles nest from February to April. This extension works best at the beginning of the Family Odyssey.
TENORIO NATIONAL PARK
Length:
3 Days/2 Nights from Liberia or Tamarindo
Season:
November through April
The Tenorio Volcano National Park is in the Guanacaste province and home to the beautiful Celeste River. The river is named for its remarkable turquoise blue hue resulting from a chemical reaction where two different creeks converge. Here you can view abundant flora and fauna, hike along scenic creeks to waterfalls, or go on a moderate rafting excursion appropriate for adventurous teens. Tenorio National Park is best explored from the secluded Rio Celeste Hideaway Hotel. This extension is best added to the end of the Family Odyssey.