By: Tom Damon, Southwind President & Adventure Travel Specialist
I recently re-visited the Chilean and Argentinean sides of Patagonia to review top level accommodations and test out excursions. The first decision to make in planning a successful Patagonia trip is to be realistic with what you could do with your time allotted. Here's my advice:
○ Pick your side and don't try to overdo it unless you have sufficient time and a healthy travel budget. Patagonia is a remote and vast region in the far south of the continent
(Map of Argentina and Chile)
. Allow 2 weeks to see Glaciers National Park in Argentina together with Torres del Paine National Park in Chile. If you only have 8-10 days, pick one side, preferably Chile (Paine Park was voted as the 8th Wonder of the World in 2013), to avoid too much vehicle time crisscrossing the Patagonia plains and the border.
○ Decide if you prefer a customized private tour with your own guide and vehicle with charming, but lower category 4 star accommodations or small-group excursions and more of an upscale all-inclusive lodge experience. Private guided travel caters well to both sides of Patagonia, the luxury all-inclusive model is mostly available in Chile.
GOING THE SIGNATURE TRIP ROUTE:
At Southwind, each season we fine-tune our hand-crafted signature Patagonia tours found on our website using our regional knowledge, first-hand scouting reports by our staff and traveler feedback. The trips featured on our
Patagonia Destination Page
offer the best value if you can form a group of 4 or more friends or family.
You can pick your own dates and travel privately with your own Southwind guide and vehicle for the greatest amount of flexibility and personalization each day. These trips feature
appealing 4 star Patagonia accommodations
such as Hotel Destino Sur, Xelena Hotel & Spa, Hotel Las Torres Patagonia and Hotel Rio Serrano. This approach is ideal for busy professionals or families who want to leave the planning to us and those looking for special insider experiences because we can work closely together to design a well-balanced experience for you. We also cater the park hikes according to ability and interest. Consider adding a
trip extension
to one of our signature tours, to see other areas of Chile and Argentina such as Ushuaia/Tierra del Fuego, Patagonia Fiords Cruise, Lake Region, Iguazu Falls, Mendoza Wine Region, Atacama Desert, Easter Island or Northern Salta. We can create a seamless private itinerary for you to show how these destinations fit together.
GOING THE ALL-INCLUSIVE HOTEL ROUTE:
For the eco-luxe traveler in pursuit of an active journey to Patagonia's premier hiking destination –
Torres del Paine National Park
– with the goal of staying in the most luxurious accommodations available, Southwind can design a custom itinerary for you to Chilean Patagonia around your interests, goals and budget (consider a minimum of $700 per traveler per day in the park, double occupancy). This model is ideal for couples or just 2-3 friends traveling together. Important to note is that getting to Paine Park is no easy feat. The Santiago-Punta Arenas flight is 3.5 hours and the drive from the airport to the park is approx 6 hours including breaks for photo ops. Condors, guanacos (related to the llama) and ñandús (rheas) roam the plains of Patagonia. The elusive puma, fox and huemul also call the park home. Rising above the native lengas and ñirres forest are the awe-inspiring granite spires and hanging glaciers that draw adventurers from around the world. Unless you can snag a less frequent seasonal flight to Puerto Natales closer to the park, planning an overnight in Santiago or Puerto Natales is highly recommended (see Singular Hotel).
The hotels and lodges highlighted below offer the chance to explore Torres del Paine National Park in comfort and style. You typically venture out on daily excursions to explore the park with other guests (up to 8 per group), and your on-site mountain guide (the exception is Awasi where you have your own private guide). Each evening the guides meet with you in the lounge to explain planned explorations for the next day based from a menu of activity offerings, and help you match experiences according to your interests and abilities. Half or full day hikes, nature excursions, boat/catamaran journeys, horseback rides and photo safaris help you discover the landscapes and wildlife of this UNESCO Biosphere Reserve as well as the unique way of life of the local gaucho culture.
Tom's review of the all–inclusive eco-luxe hotels surrounding Torres del Paine National Park:
Explora Patagonia Hotel (43 rooms & 6 suites)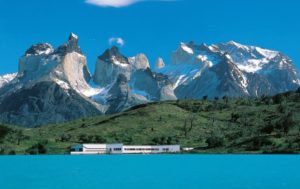 Explora has the premier location inside Paine Park. The subdued tones of the lounge and dining room overlook turquoise waters of Pehoe Lake and the famous granite spires of the Paine massif. Choose from a menu of small group excursions, over 40 explorations throughout the park available on a regular basis, with up to 8 guests max per outing. If you like horse riding, the hotel has their own stables. Explora is the closest hotel to the park's famed French Valley and Grey Lake hikes and you'll benefit from their own catamaran for crossing Pehoe Lake. Return to gourmet dining and fine wine in the evening as you mingle with seasoned adventurers. Splurge for a Cordillera Paine room (300 sq. ft.) or Exploradores Suite (450 sq. ft.) if you can't get enough of the stunning views during the day. While Explora does not offer a full service spa, you can walk 5 min to the heated covered pool area for a massage and to sooth hiking muscles in the sauna or 4 open-air Jacuzzis overlooking the serene Paine River.
Awasi Patagonia Lodge (13 Villas & 1 Family Villa)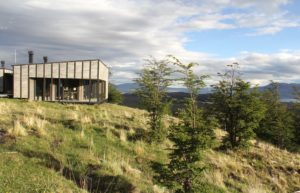 Charting its own path since 2013, Awasi's model is in contrast to its luxe neighbors in Paine. For those who favor exclusivity, a private and peaceful setting, plus the ability to plan and alter your daily excursions as you go – this is your place. It's all about tailor-made here because your villa comes with your own private guide and 4×4 vehicle for excursions. Situated on a private reserve adjacent to Paine Park, Awasi's villas provide the largest space of Paine hotels, 860 sq. ft. of paradise high above the valley, a living room, large bath and outdoor hot tub beckons you back after a day in the wilds of Patagonia. Want to avoid the "W" hiking crowds? Enjoy access to off-the-beaten-path valleys such as Baguales, known for herds of wild horses and a petrified forest. Breathtaking panoramic views abound of the Torres del Paine granite spires, Lake Sarmiento and the Patagonian steppe. Dine on the exquisite cuisine of chef, Federico Ziegler. Awasi is Chilean Patagonia's only Relais & Chateaux property and the most expensive in the Paine region (rates start at $1,000 per traveler per day), but the benefits and value of private Patagonia travel including the ability to choose your own dates, will be noticeable.
Tierra Patagonia Hotel & Spa (37 rooms & 3 suites)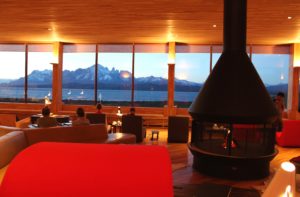 Situated on the border of Paine Park, Tierra overlooks Lake Sarmiento. Ideal for budget conscious travelers who prefer not to spend the extra money on Awasi or Explora, but still want expansive views of the Paine Mountains and surrounding grass-filled pampas. Not to be missed is a short hike out the door to the lake or a drive to the Cornices, Tierra exclusive hike with stunning views of Torres del Paine and a good chance to spot condors. Plan on 30 min drive times to reach the iconic "W" hiking areas of the park. Modern wood-infused architecture blends into the landscape, Superior rooms (387 sq. ft.) have a king or twin beds and a large panoramic window. The full service spa offers an indoor pool and a menu of treatments. Try a horseback ride from nearby estancia Cerro Guido, anglers with prior experience can arrange a guided fly fishing excursion on one of Patagonia's rivers.
Patagonia Camp (18 yurts)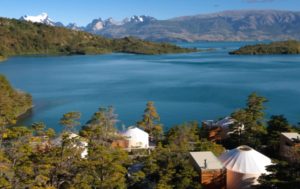 This eco lodge enjoys a secluded forest and lake front location, just 15 min from the park's Southwest entrance with easy access to Lake Toro, the Serrano River and Grey Lake for hiking, boating and fly fishing. Here, South America's first luxury camp meets pristine nature. This is glamping at its finest. Just steps from your yurt is a quiet cove with kayaks and paddle boards at the ready. Paddlers can explore lush lakeshore inlets admiring views of the Paine Massif along the way without another person in sight. Your 302 sq. ft. yurt features a private terrace, cozy inside sitting area, separate bedroom and private bath. For a romantic eco getaway upgrade to a Superior Yurt (517 sq. ft.) with a private Jacuzzi on your terrace. At the Camp restaurant taste local cuisine with a variety of fresh ingredients and flavors. For families with teens who want to cut the cord, this is the place to re-connect in a glorious mountain setting with plenty of outdoor fun together plus private spaces for the kids. Try late March-early April for autumn colors and less influence of Patagonia's wind blowing outside your yurt.
The Singular Patagonia Hotel(54 rooms & 3 Suites)
Singular has quickly risen to fame as one of South America's most iconic hotels. Steeped in history of Patagonia's early settlement, this one-of-a kind property sits on the shore of Last Hope Sound just outside Puerto Natales. I recommend a stopover here of 2 nights to break up the trip between Santiago and Paine Park. Those who bee line to the hotels closer to Paine Park, miss out on a celebrated gem of Chile. All the oversized rooms and baths (500 sq. ft.) feature wall to wall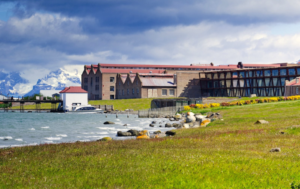 windows for contemplative views of the fjord. To indulge with a couch and sitting area go for a top floor Suite. My pick for the ideal active Singular day involves water and cuisine – begin by boarding the hotel's private boat for a morning navigation up Last Hope Sound to hike and take in views the Serrano and Balmaceda glaciers. Grab a quick bite at the hotel (saving your appetite for later) before setting off by sea kayak among the canals of Puerto Bories, if the winds are whipping up the waves, you can opt to bike along the waterfront to Puerto Natales or around Sofia Lagoon to look for condors. Return to the hotel for a massage before finishing your day with a relaxed dinner in the speakeasy-esque Asador tucked away behind nineteenth century doorways where local dishes and fine wine are served accompanied by a roaring fire. Families with kids can opt for a longer boat day with a stop for a traditional lunch at Estancia La Peninsula with horseback riding and sheep shearing on the ranch.
A summary of Tom's helpful hints to enhance your Patagonia trip:
○ Plan a minimum of 7 days/6 nights in the Torres del Paine National Park region to account for travel time or a minimum of 9-10 days from the US. Plan 14+ days if you want to combine both sides of Patagonia with El Chalten & Calafate in Argentina with Paine Park and Puerto Natales in Chile.
○ Travel anytime Nov-April, but try to avoid January (local vacation month) and the peak end of year holidays if possible.
○ Be ready for some long drives, but careful flight planning helps to shorten vehicle distances – look for more flights between Santiago & Puerto Natales Dec-Mar which maximize travel time.
○ The newer road between Puerto Natales and the Southeast entrance to Paine Park makes it easier to access the lodges near the Serrano River and Grey Glacier such as Paine Camp and Explora.
○ Families traveling with kids should consider the family-friendly lodges above that offer a variety of activities in Paine Park, the crown jewel of Patagonia.
○ Consider combining two properties to slow down the pace and break-up vehicle time. Two nights at Singular combines nicely with 3-4 nights at Awasi, Explora or Tierra closer to Paine Park.
○ If you're having trouble deciding which side of Patagonia to visit, opt for Chile and Paine Park for greater variety of accommodations, better guided service and dining experiences, plenty of wildlife, but most of all more world-class adventures in the pristine wilderness that lures intrepid travelers to the ends of the earth.
My most important advice is to speak with a knowledgeable Southwind Travel Specialist (1.800.377.9463) or
(private trip request form)
to help get the most out of your trip.
Tom Damon, July 2017