Southern Highlights Tour
Exceptional Natural History, Cultural & Historical Overview
---
---
This outstanding natural history and culturally-oriented odyssey was designed to provide a grand overview of the wonders of southern Peru, offering travelers a chance to experience the full spectrum of its fascinating diversity.
We start with a drive south along the Pacific Coast to Paracas Bay and the Ballestas Islands, then continue south to the mysterious Nazca lines. Leaving the coast, we drive to Peru's white-city, Arequipa. A short flight brings us to the Altiplano where we're introduced to the lifestyle and culture on Taquile Island in Lake Titicaca. Next, head to the Sacred Valley and its traditional towns of Chinchero and Pisac. We then have two days to explore Machu Picchu. From Cusco we return to Lima.
---
Trip Highlights:
Visit quaint fishing villages and pre-Columbian ruins of coastal Paracas
See dozens of sea lions and marine birds on the Ballestas Islands
Fly over the mysterious Nazca drawings on the desert plains
Explore the colonial plazas and historical sites of Peru's white-city, Arequipa
Mingle with Quechua families on Taquile Island in Lake Titicaca
Meet with Andean weavers in the market town of Chinchero
Contemplate the mountaintop ruins of Machu Picchu
Wander the cobbled streets of Cusco and visit the nearby pre-Columbian sites
Take in the sights and sounds of Lima, including the splendid Larco Herrera Museum
Southern Highlights Tour
Trip Itinerary
---
DAY 01: USA / LIMA
Arrive to Lima this evening and spend the night.
DAY 2: LIMA / PARACAS
Enjoy the coastal scenery of quaint fishing towns and Paracas National Reserve.
DAY 3: PARACAS / NAZCA
Speedboat to Ballestas Islands, then drive to Nazca via the town of Ica.
DAY 4: NAZCA / AREQUIPA
Flight over the Nazca Lines, followed by overland drive south to Arequipa.
DAY 5: AREQUIPA
Peruse colonial Arequipa's famous white-stone buildings, museum and convent.
DAY 6: AREQUIPA / PUNO
Flight to Puno, explore the town, and check into a waterfront hotel at Lake Titicaca.
DAY 7: PUNO / TAQUILE ISLAND
Visit the floating islands of the Uros Indians and take in their traditional way of life.
DAY 8: PUNO / PIKILLACTA/CUSCO
Overland transfer from Puno to Cusco, stopping at archaeological site Pikillacta.
DAY 9: CUSCO
A private tour of Cusco's best markets, squares, and nearby pre-Columbian sites.
DAY 10: CUSCO / PISAC / CHINCHERO
Head into the Sacred Valley, stopping at the ruins of Pisac and weavers of Chinchero.
DAY 11: MACHU PICCHU
Arrive by train to the spectacular ancient citadel of Machu Picchu.
DAY 12: MACHU PICCHU / CUSCO
Spend a second day at Machu Picchu, then catch the train back to Cusco.
DAY 13: CUSCO/LIMA OR USA
Flight to Lima and guided sight-seeing before boarding an overnight flight home.
DAY 14: USA
Make your onward connections home.
Detailed day-by-day itinerary (PDF)
With full trip profile, difficulty rating, weather, and other planning details.
Southern Highlights Tour
Dates & Rates
---
Departures
Aug 15 – 28, 2014
Sep 19 – Oct 2, 2014
Also on request any week during the April-November season for a minimum of four participants
Land Cost, 2014
$6,495 p.p.d. (4-6 participants)
$6,025 p.p.d. (7-12 participants)
$1,595 Single Supplement
Land Cost, 2015
$6,825 p.p.d. (4-6 participants)
$6,325 p.p.d. (7-12 participants)
$1,675 Single Supplement
p.p.d. = per person based on double occupancy
Detailed day-by-day itinerary (PDF)
With full trip profile, inclusions/exclusions, estimated airfare, and other info.
Southern Highlights Tour
Extensions
---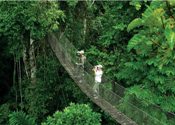 AMAZON LODGES
Length:
4 Days/3 Nights from Cusco or Lima
Season:
April to December
Families and travelers with limited time, who want a taste of the Amazon Basin rainforests, will enjoy the Reserva Amazonica or Sandoval Lake lodges, 45 min by motor boat from Puerto Maldonado.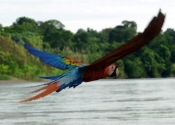 MANU BIOSPHERE RESERVE
Length:
5 Days/4 Nights from Cusco
Season:
April to October
For travelers wanting to maximize their wildlife viewing opportunities in a short extension, few places in the Amazon Basin can compete with Manu National Park in southeastern Peru, one of the most important rainforest reserves on the planet!
NORTHERN PERU
Length:
4 days/3 nights from Lima
Season:
Year-round
Long before the Incas controlled the country, sophisticated cultures existed along the Peruvian coast; and northern Peru is one of the best destinations for visiting the remains of their cities. Moche sites include Lord of Sipan and the pyramids.