Peru Amazon River Cruise
A Natural History & Wildlife Voyage Aboard the M/V Aria
---
---
The mystique and allure of the Amazon beckons those who are fascinated with the natural world. The Peruvian Amazon is home to the most biologically diverse wildlife on earth. Over 25,000 plant species have been identified in Amazonia and it is hypothesized at least as many remain yet undiscovered. This 8-day Amazon river cruise voyage takes us deep into the heart of the world's greatest wilderness through an ever-changing vista of lush tropical rainforest. Our elegant riverboat, the M/V Aria, plies these waters with grace, affording superb wildlife viewing from her observation deck. Enjoy expertly-guided daily excursions and savor gourmet meals in utmost comfort as the Amazonian landscape drifts by. A shorter, 7-day version of this itinerary is also available, featuring a 5-day Amazon River cruise.
---
Trip Highlights:
Spot aquatic wonders such as the pink river dolphin
Partake in night expeditions to experience the nocturnal wildlife that inhabits the region
Explore narrow tributaries aboard aluminum skiffs in the Pacaya-Samiria National Reserve
Search for some of the 13 species of primates found in the Reserve, including tamarins, howlers, capuchin, squirrel, and pigmy marmoset monkeys.
Visit ribereños (river dwellers) in their villages and meet local subsistence farmers
Experience sustainable resource management projects
Cast your fishing line for sharp-toothed piranha
Peru Amazon River Cruise
Trip Itinerary
---
DAY 1: LIMA
Arrive to Lima this evening and spend the night in Miraflores.
DAY 2: LIMA / IQUITOS / AMAZON RIVER
Morning at leisure in Lima, then flight to Iquitos and drive to the port of Nauta to board the M/V Aria to begin your 7-night cruise.
DAY 3: AMAZON RIVER / YARAPA RIVER / UCAYALI RIVER
First tour on the skiffs along the Amazon River looking for wildlife. Lunch on board. Afternoon canoeing and swimming at Lake Clavero.
DAY 4: YANALLPA / DORADO RIVER / PACAYA-SAMIRIA RESERVE
Morning exploration of the Amazon flooded forest within the Reserve. Peruvian cooking lesson on board before lunch. Afternoon journey through the "Forest of Mirrors" due to its dark lagoons that reflect the scenery, observe parrots, macaws and a variety of primates.
DAY 5: BIRTHPLACE OF THE AMAZON / NAUTA TOWN
Locate the headwaters of the Amazon River, where the Ucayali and Marañon Rivers merge. Visit local villagers in this remote part of the Amazon and learn about the medicinal value of jungle plants. Afternoon walk around Nauta and visit the Sapi Sapi Lagoon.
DAY 6: YANAYACU / MARAÑON RIVER / PACAYA-SAMIRIA RESERVE
Explore the Yanayacu – Pucate River within the Reserve looking for freshwater pink dolphins. Afternoon ride the skiffs in search of wildlife until sunset including howler, capuchin and squirrel monkeys. A delicious dinner is served back on board.
DAY 7: SAMIRIA RIVER / NAUTA CAÑO / PACAYA-SAMIRIA NATIONAL RESERVE
Encounter wildlife in the jungle and look for the magnificent Ceiba tree followed by canoeing and swimming in the Samiria River. Afternoon at Nauta Caño which is part of the Reserve, search for toucans, macaws, monkeys, and iguanas, among other species.
DAY 8: MARAÑON RIVER / TAHUAYO RIVER / AMAZON RIVER
Sail along the Marañon River watching the different species of flora and fauna and go for a nature hike. Afternoon exploration of the Tahuayo River, possibly spotting of terns, tropical songbirds, pipites, black collared hawks and sloth. Fish for piranha. Gourmet farewell dinner on board.
DAY 9: AMAZON RIVER / NAUTA / IQUITOS / LIMA
Final morning wildlife excursion. Disembark, drive to tour Iquitos and the Manatee Rescue Center. Flight back to Lima, board overnight flight home.
DAY 10: USA
Make your onward connections home.
Detailed day-by-day itinerary (PDF)
With full trip profile, difficulty rating, weather, and other planning details.
Peru Amazon River Cruise
Dates & Rates
---
Departures
On Request Contact us for availability Plan ahead to secure your space! Read more about
booking a cruise with Southwind
2018 Land Cost (1st Deck Suite)
$9,445 p.p.d. (2-3 participants)
$9,345 p.p.d. (4-12 participants)
$2,445 Single Supplement
p.p.d. = per person based on double occupancy
Note: A shorter, 7-day itinerary is available from $5,530 p.p.d.
Upper or Second Deck Suites are also available, please see the PDF below for those rates.
Detailed day-by-day itinerary (PDF)
With full trip profile, inclusions/exclusions, estimated airfare, and other info.
Peru Amazon River Cruise
Accommodations
---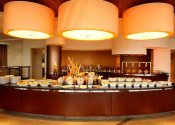 LIMA: JW MARRIOTT HOTEL
— Enjoy a view of the Pacific Ocean against the shoreline at one of Condé Nast Traveler's Top-20 Latin American hotels, the JW Marriott Hotel Lima. This 5-Star facility has a prime location near the Larcomar shopping and entertainment center, and all the features you would expect from a luxury property.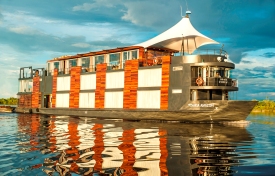 M/V ARIA
— This elegant, stylish 130-foot flagship, designed by renowned Peruvian architect Jordi Puig, is the finest vessel cruising the Peruvian Amazon. The luxurious riverboat features large outward-facing panoramic windows and en suite sitting areas. All suites are air conditioned.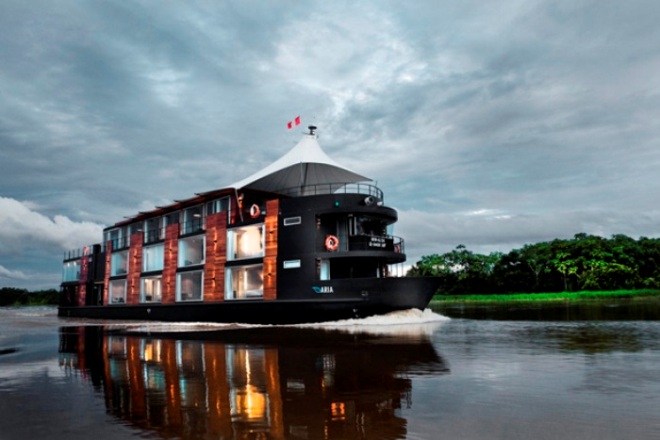 BROWSE ALL AMAZON CRUISE VESSELS
— Southwind Adventures works with a select few Amazon cruise vessels, carefully choosing the foremost ships operating on the Peruvian Amazon River. To ensure the best quality experience for our travelers, we select leading cruise vessels based on the following criteria: safety, comfort, guides and itineraries.