---
Galapagos Adventure: Cruise Vessels
---
Our Select Galápagos Cruises
To maximize your Galapagos adventure, Southwind works with a dozen of the foremost yachts operating in the Galápagos Islands. Criteria for choosing these vessels include:
Safety
– all meet or surpass international construction and safety standards and have the best, modern navigational equipment.
Comfort
– ship amenities include air-conditioning, private baths with 110/120v AC current and fresh hot and cold water, lower twin or double beds, spacious dining and lounge areas complete with library, TV, stereo and DVD, expansive sun/observation decks, and excellent Ecuadorian and international cuisine with fully stocked bars.
Guides
– all vessels feature highly experienced, English-speaking naturalists, licensed by the Darwin Station (typically at level III, the best certification available).
Itineraries
– each boat visits the most important sites in the archipelago as well as at least one of the outlying islands: Tower, Fernandina or Isabela. Any of the boats are available for private group charter.
---
Our mid-sized boats accommodate up to 50 passengers and feature a comfortable, relaxed environment perfect for clubs, schools and families that prefer more spacious surroundings while still enjoying a very personalized Galapagos adventure.
---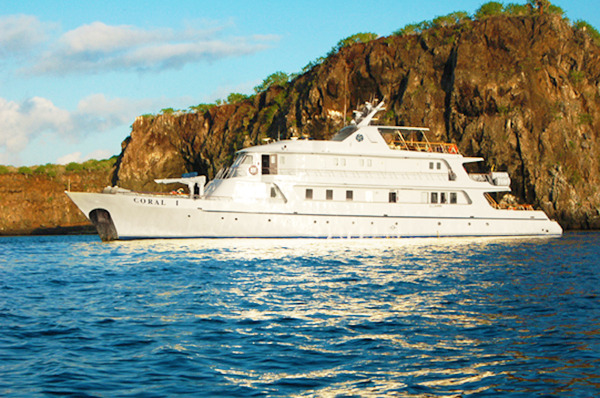 M/Y CORAL I
Type: 36 passenger First-Class Motor yacht
Length: 131 ft
Cruising speed: 10 knots
The M/Y Coral I accommodates 36 passengers in 18 comfortable cabins. The yacht has plenty of places to relax, including a sun terrace, reading area and hammocks. There is also a boutique aboard and an outdoor Jacuzzi.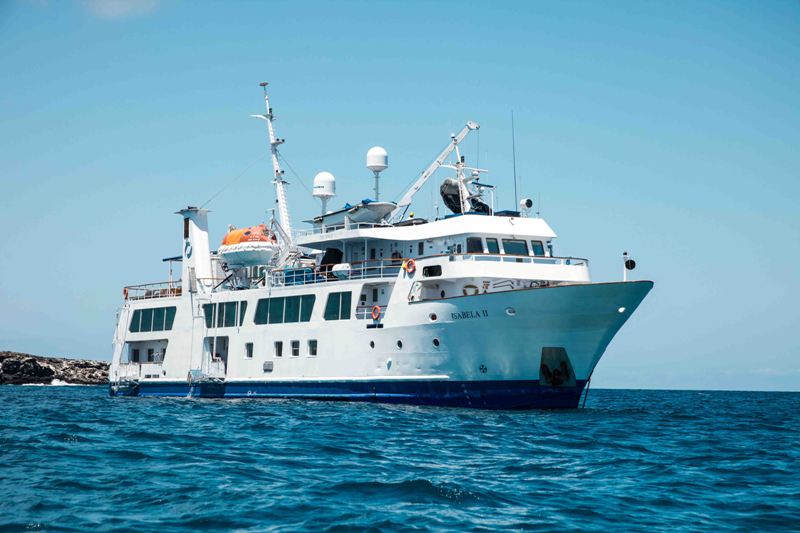 M/Y ISABELA II
Type: 40 passenger Deluxe Motor-yacht
Length: 166 ft
Cruising speed: 10 knots
Refined Isabela II features amenities of a larger vessel while maintaining a tasteful yet relaxed and intimate atmosphere. Her facilities include a large bar and lounge, spacious semi-formal dining room, one of the Galápagos' most complete libraries and an ample sun deck with Jacuzzi and solarium.
M/Y LA PINTA
Type: 48 passenger Deluxe Motor yacht
Length: 207 ft
Cruising speed: 12 knots
As one of the islands' newest vessels, La Pinta accommodates 48 passengers in luxurious comfort, and is an ideal size for cruising the waters of the Galápagos. Elegant public areas feature a stylish and modern atmosphere, with plenty of natural light and a nautical touch.
Larger ships carry up to 100 guests and are suited for more sizable gatherings including alumni groups and organizations with large memberships as well as for travelers preferring more formal surroundings, larger spaces, greater comfort and maximum stability.
---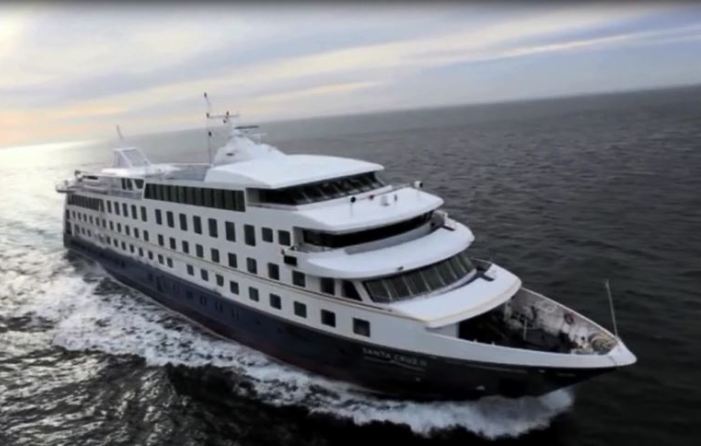 NEW! M/V SANTA CRUZ II
Type: 90 passenger First-Class Cruise Vessel
Length: 235 ft
Cruising speed: 10.5 knots
Indoors and out, the Santa Cruz II offers handsome installations that make the most of the Galápagos, ensuring your stay on board will perfectly complement the day's outings. It will launch its maiden voyage in October 2015.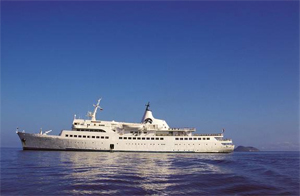 M/V GALAPAGOS LEGEND
Type: 100 passenger Boutique Expedition Ship
Length: 301 ft
Cruising speed: 15 knots
The M/V Legend features 58 cabins for 100 passengers, and was fully refurbished in early 2015 and recently remodeled in late 2016.This vessel is small enough to ensure peacefulness and personalized attention, yet has all the amenities of a larger ship.