---
Staff and Guide Profiles
---
Guides: Brazil | Ecuador and Galápagos | Peru | Bolivia | Chile & Argentina
One of Southwind's distinguishing features is our people. Your Latin American journey begins the moment you search our website or call our office and does not end until you return from your adventure delighted, renewed and satisfied. Our home office personnel and local guides are committed to outstanding personal service, attention to detail, and providing an exceptional travel experience. To become a part of our team, please visit our
Career Opportunities
.
---
USA Office Staff
---

Tom Damon, President and Adventure Travel Specialist
Recognized as a "Trusted Travel Expert" for Machu Picchu & Patagonia on Wendy Perrin's 2014-2016 WOW List and a "Top Travel Specialist" by Condé Nast Traveler magazine since 2005.
Tom has a BA in Environmental Science from the University of Denver and an MS in Natural Resource Management & Administration from Antioch University. Prior to joining the SWA team in 1994, he worked on ecotourism and sustainable development projects in Costa Rica. His roots are as a mountaineer in the Andes, Pyrenees, Cascades and Alaska. These days, Tom enjoys personalizing trips for families and discerning Southwind travelers, blending nature and cultural experiences with unique accommodations. His Andean travels have included; Peru's Inca Trail, Cordillera Blanca, Salcantay and Urubamba ranges, Ecuador's haciendas and Avenue of the Volcanoes, Patagonia's Torres del Paine and Glaciers National Parks, the Lake District, Bolivia's Lake Titicaca and Cordillera Real, and Venezuela's "Lost World." Rainforest forays have included: riverboat cruising aboard the luxurious M/V Aria into the Amazon's remote Pacaya Samiria Reserve in Peru, in addition to the Manu Biosphere and Tambopata Reserve, Yasuni National Park in Ecuador, and Brazil's Iguazu Falls and Pantanal. In the Galápagos Islands, Tom can recommend a variety of upscale cruise options or eco-hotels from personal visits. Closer to home, Tom, his wife Kelly and two young children enjoy exploring the Colorado outdoors.

Suzie Shride, Co-founder and Advisor
An outdoor educator, Suzie enjoys sharing her passion for travel, native cultures and nature with others. Her journeys took her to five continents before she discovered her love for South America. She has explored remote regions of the Amazon including Bolivia's Isiboro-Secure, Ecuador's Jivaro territory, and Peru's Manu & Tambopata reserves plus the upper Rio Negro River in Brazil, Venezuela & Colombia. She has hiked dozens of Andean routes including multiple trips along the Inca Trail, the Ausangate Circuit near Cusco and the Huayhuash and Blanca ranges outside of Huaraz. She's trekked the Paine & Fitz Roy areas of Patagonia on several occasions, has photographed wildlife in Brazil's Pantanal and Venezuela's Llanos, and snorkeled with penguins and sea lions in the Galápagos. Now daughter Reyna accompanies her mom frequently on trips, making friends wherever she goes. Now a multi-award-winning author, Shride is sharing tales of her adventures with audiences around the world through the
Lucy Dakota: Adventures of a Modern Explorer
series.

Luis Felipa, Owner and Director of Operations
This Peruvian native is a former seasoned guide and mountaineer. He led trips throughout the Andes for a decade and counts 40 successful ascents on his resume, including Mt. Aconcagua, the highest peak in the Americas (22,834′). After eight years of studying business management and economics at two of Peru's top universities, he combined this knowledge with his "hands-on" expertise in the field to develop one of the finest tour companies in the country, Trekperu. In 1990 he moved to the United States to co-found Southwind Adventures, drawing on his lifetime of extensive travel throughout South America. With over 30 years of experience, he carries out our mission of providing clients with superb upscale adventures to some of the planet's most breathtaking destinations. An explorer by spirit, his travels have taken him from Coastlines up the Andes, down to the Amazon basin, and to many remote locations in between. He has scouted out the national parks, wildlife reserves, and eco-resorts in the Central American countries of Costa Rica, Panama, Honduras, Guatemala, and Belize. Most recently, he has journeyed to Argentina's Iguazu Falls, the wine country of Mendoza, the Northern province of Salta and Uruguay. His passions include nature & wildlife, conservation, native cultures, history and photography.
---
Local Guides: Peru
---

Aly Amaut
is a Cusco native. Having worked in the tourism industry for over 8 years, he is a professional, enthusiastic and confident tour guide. He speaks fluent Spanish, English and Quechua (the native language of the Peruvian highlands). He is married with a daughter, enjoys photography and birdwatching, and loves to read about ecology, Andean culture and heritage. His excellent leadership and communication skills endear him to Southwind travelers.

Francis Casapino
holds a degree in Tourism from the San Antonio de Abad University in Cusco. His varied travel industry background includes working as a receptionist in hotels, at the regional tourism office, in travel agencies, as a guard in Manu Park and his current vocation as guide extraordinaire. He is soft-spoken and gracious, and is a perennial favorite among Southwind guests, receiving glowing reveiws regarding his knowledge, charm and caring attitude. Read more about
Francis on the Southwind Blog

Rosa Garcia
is one of Cusco's finest guides, and one of the few females pursuing this career path. She is a delightful and compassionate trip leader with over 15 years of experience. Rosa is exceptionally well-versed in Inca culture and history and enthusiastically shares her knowledge of local lifestyles with guests. She holds a degree in tourism, speaks fluent English and always receives effusive comments from Southwind groups.

Romulo Lizarraga
is one of the most knowledgeable, experienced and professional guides in the Andes. This University of Cusco graduate was born in Intihuatana, at the foot of Machu Picchu mountain where his grandfather lived as well. Romulo has over 20 years of experience in the Peruvian Andes and has co-authored two guide books. He's an avid hiker, having led trekking groups throughout the mountain ranges in the Cusco region and beyond. He is married with two daughters and is fluent in Quechua, Spanish and English.

Jorge Olivera
is a Chemical Engineer who began leading tour groups in 1998. A skilled lecturer, he has spoken at the University of Kansas in Wichita and traveled throughout the USA on multiple trips. He equally adept at leading trekking groups on the Inca Trail or addressing archaeological and culturally-oriented tours.

Ronny Peña
has been a professional guide since 1993. He has a degree in Tourism from the University San Antonio Abad in Cusco and has lived for a year in Texas working in the hotel industry. He speaks English and French fluently and has taken courses in sustainable tourism, Anthropology and first aid. Ronny is also an accomplished amateur photographer and has received some local awards for his work. Ronny has a friendly personality and enjoys sharing his knowledge with guests to his country.

Ana Zamalloa
was born in Cusco and holds a degree in Tourism. She has played an active role in the ecotourism field for 8 years working as a naturalist guide and promoter of responsible Ecotravel to the rainforest of Manu National Park. Her current position as full time Andean guide has been proceeded by many trekking expeditions in southern Peru and Bolivia. She is experienced in first aid and rescue techniques, speaks fluent English and enjoys attending events and lectures relating to environmental issues

Fredy Cayo
– Native to Cusco, Fredy leads travelers into the Inca heartland through all five senses, especially taste. His forte is culinary tours that feature visits to local markets, fun discoveries at food tastings, and hands-on cooking encounters. With over 15 years of experience and a degree in Tourism, he impresses with his strong grasp of English, Spanish and the local Quechua language. Fredy is a seasoned hiker, a family man, and a former restaurateur who can always find ways to relate and connect, giving each of his trips a personalized flavor.

Ofelia Larco
is one of Lima's most gracious, caring, informed and efficient guides! She handles airport transfers (one of the most difficult jobs) as well as tours of the Lima's colonial sectors, the Gold & Archaeological museums and the Pacific Coast.

Erika Berrospi
is a caring, knowledgeable and engaging guide, native to Lima. A certified tour guide with over 17 years of experience in the travel industry, she handles airport transfers and assistance (no small task, considering the capital city's traffic and busy terminals) as well as tours of historical Lima, the local museums and the nearby Pacific Coast. She speaks fluent English and makes excellent recommendations for sampling Lima's hot restaurant scene.
---
Local Guides: Ecuador & Galapagos
---

Carlos Ordoñez
is one of Southwind's favorite guides. He, also, attended high school in the USA, having lived for four years in the Washington, DC area. He has been involved in the travel industry for more than 14 years, and is a very positive, caring and insightful guide. Furthermore, his good nature and sense of humor endear him to the groups he accompanies.

Paul Aguilar
Native to Quito, Paul brings his passion for the nature and culture of Ecuador to each of his tours. He's been formally trained in Social Sciences and Environmental Education, plus he's a certified as a naturalist guide. In his 14 years of guiding experience, he's gained extensive knowledge of Ecuador's flora and fauna – especially its bird life. As a husband and father, he knows how to spread his enthusiasm on to travelers of all ages. His charisma and energy wins him positive and heartfelt reviews time after time.

Xavier Montezuma
is a seasoned climber who has worked as a professional adventure guide for the past 10 years, leading groups throughout Ecuador's Andes. In addition to his mountain experience, Xavier studied biology and continually enhances his knowledge of his native country.

Edison Oña
is a savvy mountaineer and a professional trekking and climbing guide, specializing in the Andes of Ecuador. Edison speaks fluent English and is an expert in the Cotopaxi, Chimborazo and Altar regions.
---
Local Guides: Chile & Argentina
---

Eduardo Shule
calls Patagonia home. He has been leading hiking groups throughout this region for the past 10 years. An official mountain guide in his 40's, he is a seasoned mountaineer and an accomplished hiker and biker. He speaks excellent English and has an easy-going, caring personality.

Guido Vittone
attended a bilingual school in Buenos Aires, taking part in an exchange program for six months in Cleveland, Ohio. Family camping trips and Boy Scout outings gave birth to a deep interest in the many natural areas of Argentina, particularly those of the Patagonian Andes. Guido became a certified mountain guide, graduated from a NOLS Mountain Instructor course in 1995 and has been guiding in Patagonia for the past 10 years. The history and geography of the region are among his main interests.

Marcelo de Cruz
is a seasoned adventure guide with a focus on birds. Certified to lead in Tierra del Fuego National Park, his course work included diving, canoeing, birdwatching, bird song biology, and animal behavior. In addition to guiding, he is a professor at the University of Salvador in Ushuaia.

Sabrina Kizman
was born in Buenos Aires, and like many others, escaped life in the big city and moved to Tierra del Fuego. She has been a guide since 1989 and currently specializes in the natural history of the region. She speaks excellent English, has traveled throughout South America, Asia, Europe and the USA, plays classical guitar and enjoys skiing among other sports.

Daniel Feinstein
was born into a family of naturalists and spent most of his childhood traveling and hiking in Patagonia and South America. His English is excellent as a result of having graduated from high school in Florida and studying to be a translator. Daniel continued his travels around the world, working in Europe, hiking in Nepal and Sikkim, and climbing in Peru and Ecuador. Since becoming an official guide in 1981, he has escorted dozens of hiking and natural history groups throughout Patagonia, Tierra del Fuego and other points in Argentina & Chile.

Maria Elena Ortolani
lives in Buenos Aires and is a charming, knowledgeable and enthusiastic city tour guide whose strength is attention to details. She is dedicated to her job and to providing the highest quality of services.

Martin Castrillo
is a seasoned mountaineer who studied tourism in his native Cordoba and has been working with our trekking groups in Patagonia since 2002. Martin has successfully climbed peaks in Argentina, Chile, Bolivia and Peru. He is fluent in English and has a very friendly and outgoing personality.

Jorge Blampied
is an avid Argentinean outdoorsman, and has been an official trekking guide and active mountaineer since 1999. He has been leading and co-leading our trekking groups in Patagonia for the past 3 years. Jorge has a background in geology and is fluent in English. He has a friendly personality and enjoys sharing his knowledge and passion for the region with visitors to Patagonia.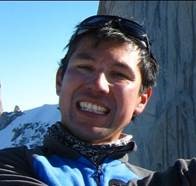 Luis Olea
is a professional trekking and mountain guide, with vast experience in rock climbing, ice climbing and alpine skiing. Certified as a Wilderness First Responder and fluent in Spanish and English, Luis has led climbing groups along the ice waterfalls in Puente del Inca, Mendoza, as well as expeditions in the mountains of the Cordillera Blanca in Peru, Huayna Potosí in Bolivia, the Southern French Alps and Dolomites in northeastern Italy. Luis currently works as a mountain guide at Parque Nacional Los Glaciares in El Chaltén, where he leads trekkers along popular and less conventional routes sharing his knowledge and passion for Patagonia.
---
Local Guides: Brazil
---

Dr. John Harwood
is a British biologist who worked for eight years at the Institute for Amazon Research (INPA) in Manaus. John has lived in Brazil for 25 years. His diverse background, including skills as a musician, make him a great trip leader!

Ricardo Barbosa
, one of Rio's top tour guides is best described as savvy, professional, and highly experienced, putting guests at their ease immediately. Ricardo not only knows the city and Brazilian culture but is a trained naturalist as well.

Alzenir Souza
is a Brazilian naturalist who grew up in a small village near the Amazon River. He developed a vast store of practical knowledge about rainforest flora and fauna as well as a deep understanding of Amazon culture. Souza learned English and over the years, acquired a more academic perspective on the tropical environment. He is an exceptional wildlife spotter and a fine companion in exploring the greatest wilderness on Earth.

Elcio Sa Vinhote
was born in the Amazon and has worked as a guide since 1983. In addition to English and Portuguese, Elcio speaks Spanish and Italian. He is knowledgeable, friendly and trustworthy and is one of Manaus' top naturalist guides.
---
Local Guides: Bolivia
---

Carlos Pujazón
is an excellent climbing and trekking guide. Active in mountaineering for at least 20 years, he has led Southwind groups for the past 13. He has successfully climbed 23 Andean peaks, including Aconcagua in Argentina and Huayna Potosi in Bolivia, and knows most of the trekking routes in the Cordillera Real as well as Peru's Blanca, Vilcanota & Vilcabamba ranges. Carlos is well-trained in mountain rescue and safety and has a charming, relaxed personality.

Mauricio Suarez
grew up in La Paz and has a degree in architecture. To aid in his career as a guide, he also studied archaeology and Andean astronomy. He speaks excellent English and enjoys photography. Mauricio has been working as a professional guide for the past 7 years and his extensive knowledge and enthusiasm make him a delightful travel companion.

William Flores
is another native of La Paz. He is a cultural specialist who has juggled finishing his degree with leading groups on a variety of cultural and spiritual journeys throughout Bolivia. William combines his knowledge and love of his Andean heritage with the joy of sharing it with others. A kinder, more attentive guide is hard to find!